Work on the remaining nine mounted figures of the 7th Hariana Lancers will get underway this weekend. This week I gently painted up a figure to represent Major George Godfrey Massy-Wheeler VC. Major Massy-Wheeler was awarded the VC posthumously following actions at the head of "A" Squadron of the 7th Hariana Lancers on 12th and 13th April, 1915.
This figure is a Perry Miniatures WW2 British Yeomanry officer with some added greenstuff to fashion the feedbags, blanket and bandolier about the horse's neck. He may be a little informal as he is not wearing a tie. The original figure was wearing a tin hemet but this has been replaced by a Perry Miniatures Indian Pattern sun helmet.
Major Massy-Wheeler VC was buried at the Basra Military Cemetery. The CWGC is currently unable to maintain this cemetery. There is fear that his headstone, and many others, may no longer be standing.
Major Massey-Wheeler at Shaiba.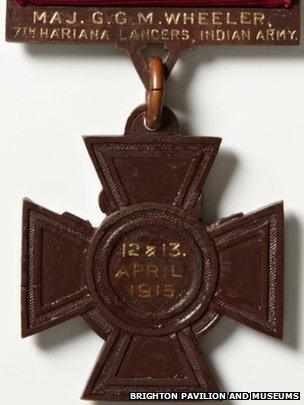 All the Major's war medals were awarded to his widow, who lived in Brighton, On her death in 1950 she bequeathed them all to the Hove Museum.Their collection transfered to the Royal Pavilion and Museums, Brighton. They were recently rediscovered in 2014:
http://brightonmuseums.org.uk/2015/01/20/victoria-cross-discovered-at-brighton-museum-art-gallery/